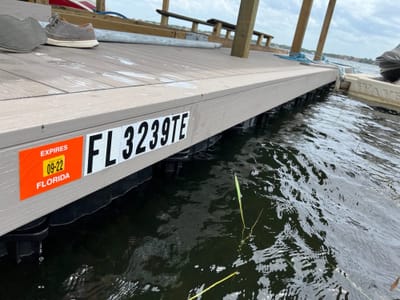 KonaDocks is registered as a boat and does not require a permit.
KonaDocks is certified by the USCG as a USA boat builder. All our docks come registered with a USCG Vessel Identification Number (VIN). We manufacture our docks in Central Florida and deliver the vessel docks completely.
The docks have a transom and are rated for up to a 10hp motor.
KonaDocks issues DOT paperwork so you can go to the local DMV to register your KonaDock. Your state will register your vessel and give you a registration sticker. In states like Florida, you only must register it once unless you opt for the motor option and the vessel will be operated under power.
You can pick up and install yourself or you can work with one of our trained installers.
KonaDocks can easily be attached to a fixed dock. If you need repairs to permanently attach your KonaDock, the work might need to be performed by a licensed contractor in your State. We work with licensed contractors and can recommend one of our partners.
Our docks have an unheard of 10-year warranty.
Whether you're looking for a floating dock or a jet ski dock, KonaDocks are your docking experts here to help you accomplish any home or business project you have in mind. So, are you ready to get started?